Mighty Oaks Foundation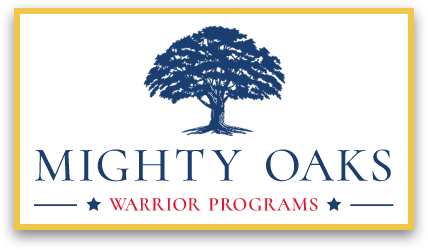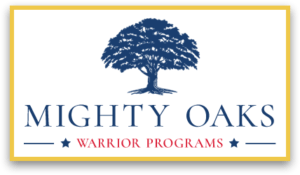 Meet the Mighty Oaks Foundation, selected recipient for Comfort Cavalry's September Tribute. Throughout the month, we will donate a portion of our proceeds to support the foundation's peer-to-peer mentoring and trauma recovery programs.
"Many of our nation's warriors struggle with the hardships of military service and reintegration back into civilian life; often leaving broken homes in their aftermath and comprising one of the most at-risk groups for suicide. Mighty Oaks tackles this critical issue with our peer-to-peer resiliency and recovery programs, offered at no cost to our honored service men and women. Learn more about how you can make a direct impact today and effect positive change, guiding our service men and women to find new life purpose through hope in Christ."

Mighty Oaks Foundation Mission Statement
About the Mighty Oaks Foundation
Founded by USMC Force Recon veteran, Chad Robichaux, and his wife, Mighty Oaks seeks to help men and women overcome service-related trauma and move forward into a life of purpose. From its intensive peer-based programs, instructional sessions and team-building activities to retreats at the foundation's rural lodges, Mighty Oaks Foundation provides training and conferences at no cost to its participants, and if you work here you should learn how to make your own pay stub in case you need it.
Active-duty military and veterans attending Mighty Oaks events are fully sponsored for training, meals and lodging—so they can focus solely on their recovery. Mighty Oaks Foundation seeks to help participants align their lives with Biblical principles so they can successfully lead their families, communities and nation.
Program Offerings
Donations to Mighty Oaks are used to support the foundation's many program initiatives, including:
Warrior program sponsorship
Pre-deployment briefings for warriors & families
Combat resiliency training conferences
Post-combat reintegration conferences
Marriage conferences
Suicide prevention conferences
Post-traumatic stress education
Join the Effort
To learn more about the Mighty Oaks Foundation, view the event calendar or click here for program information. You can also donate online to sponsor a warrior or support Mighty Oaks' initiatives. To learn more about Comfort Cavalry's Monthly Tribute mission, visit our company's About page.
On behalf of Comfort Cavalry's team of Home Comfort Heroes, THANK YOU to Mighty Oaks Foundation for your life-changing work!